In past blogger don't allow favicon upload and to add favicon to blogger blog you need to upload favicon somewhere else and then possible with the help of small html code and editing blogger template. But recently Google added a custom favicon feature to the blogger blogs.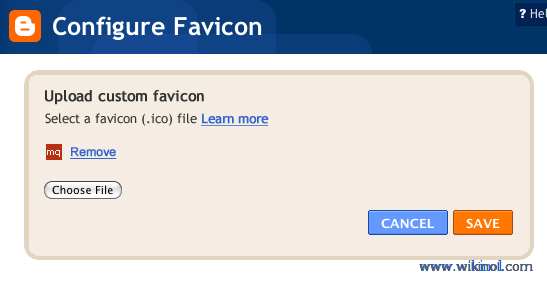 Favicon is the tiny image displayed in your browser's window or tab also known as a shortcut icon, Web site icon, URL icon, or bookmark icon, is a file containing one or more small icons, most commonly 16×16 pixels.

How To Add Favicon To Blogspot Blog
Adding a favicon to blogger or blogspot blog bit easier now. To add custom favicon hit Design | Page Elements tab or, from the Layout tab if you're using the new user interface. You will find now new favicon edit element setting above the navbar element on the layout page.


As you click on the edit button a new window will pop-up where you can select you desired favicon image from your hard drive to replace the default favicon image. If you don't know how to make .ico file for favicon then this ICO converter is one of the nice online tool from which you can convert your PNG, JPEG, GIF, BMP image to .ico. After uploading the new favicon image don't forget to save.


Now you will see the new favicon image uploaded by you instead of blogger default favicon. That's all now you have your own favicon for your blogspot blog.
Blogger currently only supports .ico files but in future may be they support PNG, JPEG, GIF, BMP image.
Image Credit : Google